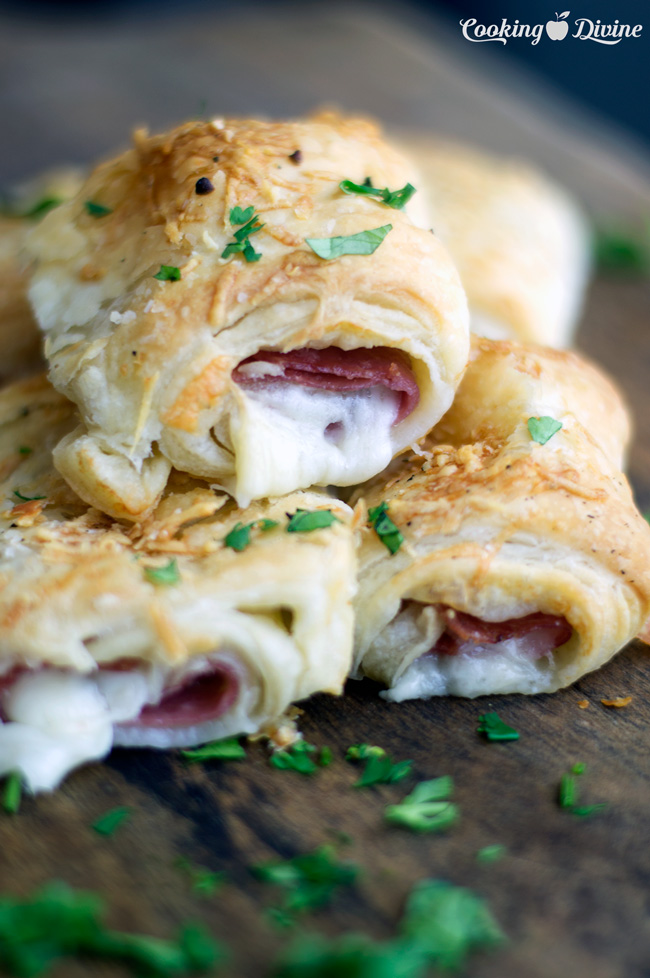 Salami and Provolone Puff Pastry Rollups Recipe:  This is a unique take on a classic Italian combination.  I actually came up with the idea for this appetizer with a mouth full of salami and provolone that I was snacking off a charcuterie board.  My first thought was of course, how can I make this already fattening appetizer even more unhealthy and delicious?
As I feel like I get busier and busier with each passing day (which could perhaps be true), I find myself more and more gravitating to the recipes that take 30 minutes or less.  You can actually see that section of my blog out pacing the rest of the website.  This recipe is no different.  Simply roll up the salami and provolone, top with some olive oil and parmigiana reggiano and slap it in the over for 20 minutes.
Live to Eat!

Salami and Provolone Puff Pastry Rollups
Salami and Provolone Puff Pastry Rollups Recipe - adding a little something extra to the classic Italian appetizer.
Ingredients
1 Puff Pastry Sheet
8 Slices of Salami
8 Slices of Provolone Cheese
2 Tablespoons Olive Oil
Pinch of Salt
Pinch of Pepper
2 Tablespoons Parmigiana Reggiano Cheese
¼ Cup Flour for Rolling Pastry Dough
Directions
Preheat the oven to 350 degrees.
Defrost 1 sheet of puff pastry in the refrigerator.
On a floured table, roll out the pastry dough so that you have roughly 2 9x9 inch squares.
On each square lay out evenly across 4 slices of salami each (8 total).
Layer each sheet with the same amount of sliced provolone.
Roll each sheet tightly and cut into 4 equal roll ups.
Lay the rollups on a baking sheet and brush with olive oil.
Top with parmigiana cheese and bake in oven for 20 minutes.
Related