Sea Salt and Caramel Ice Cream Recipe:
 This is hands down the richest flavored ice cream recipe that I have ever made.  It also happens to be one of the most popular ice cream recipes out there and for very good reason.  The caramel and sea salt are a match made in heaven and couldn't pair better together. The ice cream itself will come out super soft more like that of a gelato.  I like to pair this ice cream with a chocolate dessert such as a chocolate cream pie or even a chocolate lava cake… yum!
Growing up as a kid, caramel was by far my favorite candy.  I used to eat those milk caramel squares by the bag full.  The bridge to gap to ice cream therefore was very small.  In fact, this salted ice cream recipe is one of the very first ice creams that I have ever made.  I opted to wait on posting this because I decided to make a  
Salted Caramel Hot Chocolate
instead and wanted to wait a while before I re-ventured into the salted caramel game! Needless to say, this ice cream has been on my "Recipe Ideas Board" for quite some time and I am extremely excited to finally be posting this.  Trust me when I tell you that this ice cream recipe will be one of your all time favs and is guaranteed to impress anyone you make it for!
And as always… Live to Eat!  and Yaaayyy Ice Cream!
Decadent Sea Salt and Caramel Ice Cream
Salted Caramel Ice Cream Recipe: this ice cream is incredibly rich and super tasty, there is a reason why it is so popular!
Ingredients
3 Cups Heavy Cream (divided)
1½ Cups Sugar
1 Tablespoon Lemon Juice
4 Egg Yolks
1 Teaspoon Vanilla Extract
1 Tablespoons Sea Salt
2 Tablespoons Butter
Directions
Set aside 1 cup of heavy cream in a metal bowl over a bed of ice water and lay a fine mesh strainer over top.
In a medium sauce pan melt ½ cup a sugar and lemon juice. Continue to add ½ a cup of sugar at a time waiting for each batch of sugar to completely melt until adding the next half cup. Do this until all 1½ cups of sugar are added.
Continue to cook sugar gradually until it turns to a brown hue this is the caramelization. The darker you cook the sugar the more rich the ice cream will become so I leave this up to you to experiment.
Take the caramelized sugar of the heat and stir in the butter and sugar until melted.
Return to burner and slowly whisk 2 cups of cream. The caramel may seize at this time but that is okay, keep heating until it remelts.
Once melted and warm, add a ladle at a time of the cream caramel mix to the egg yolks while whisking furiously to avoid cooking the eggs.
Once half the mixture has been whisked into the eggs, pour the egg cream mixture back into the saucepan and cook on medium low while slowly stirring until the base thickens and can coat the back of a spoon (SEE IMAGE BELOW). This is your custard base.
Take the custard base and pour through the mesh strainer into the cup of cream on the ice bath.
Stir in the vanilla extract and allow to cool to room temperature.
Put mixture in fridge and cool for 2 hours - overnight.
Freeze mixture in ice cream make according to manufactures instructions.
Freeze overnight.
Notes
Turn your exhaust fan on, caramelizing sugar will cause smokiness and this is completely natural so do not think that you are burning anything.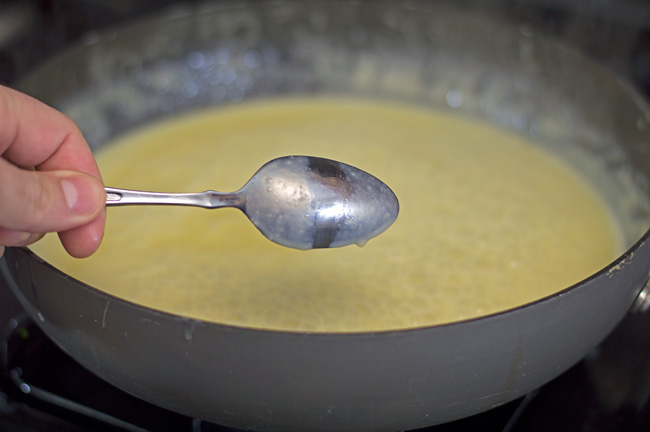 Related