Sweet Corn & Blackberry Ice Cream Recipe: Oh yes we did!  Corn infused ice cream with a wonderful cooked down blackberry sauced folded in to absolute perfection!
Jersey sweet corn infused ice cream is such a magnificent flavor.  It provides a sweeter taste then your typical ice cream base but with a richer texture and deeper more complex flavor.  I like to use corn often when making ice cream, it goes with so many other add ins and flavor mixtures.
I tend to like making ice cream that surprises people.  When you tell them you are making sweet corn flavored ice cream, you are often met with resistance.  But being able to see their faces after trying these unique flavors is well worth the effort of making them.  I always loved to be surprised myself. I like going to a restaurant and eating something that I may say to myself "no way those ingredients taste good together!" only to be blown away by the flavor!  The French have mastered this trick so its no coincidence that many of the wild ice cream recipes I make are of the French-Style variety!
As always … LIVE TO EAT!

Sweet Corn & Blackberry Ice Cream
Sweet Corn & Blackberry Ice Cream Recipe: Oh yes we did! Corn infused ice cream with a wonderful cooked down blackberry sauced folded in to absolute perfection!
Ingredients
2 Cups Heavy Cream (divided)
1 Cup Whole Milk
½ Cup Sugar
½ Cup Light Corn Syrup
Pinch of Salt
3 Ears of Corn
3 Large Egg Yolks
1½ Cups Blackberries
5 Tablespoons Sugar
¼ Cup Water
1 Tablespoon Lemon Juice
Directions
Place 1 cup of cream in a metal bowl and place over ice
Take a knife and carefully strip the kernels of corn off the cob (save the cobs)
Place into a medium saucepan the rest of the cream, the milk, the sugar, the corn syrup and the salt. Cook on medium heat until everything melts together.
Add the kernels of corn and the cobs and cook the mixture until it just begins to boil. Immediately take off heat and cover for 1 hour.
After 1 hour remove the cobs and strain the mixture through a fine strainer making sure the press on the corn to extract all of the flavor. Return mixture to saucepan and reheat on medium low.
In a separate bowl beat the egg yolks. Slowly add the heated mixture **IMPORTANT: while you are adding the mixture make sure you are furiously whisking the mixture to prevent the eggs from cooking!
Once half the warmed corn infused mixture is mixed with the egg yolks, pour the egg yolk mixture into the saucepan and continue to heat on medium low heat.
Continue to heat the mixture until it thickens enough to cover the back of a spoon and leave a tracer of your finger (SEE IMAGE BELOW).
Once you get the proper thickness, strain the mixture into the cream you have set aside in the ice bath to stop the cooking process. You may see some small curdles of cooked egg, but that is okay as long as you strain the mixture.
Stir the mixture and wait for it to reach at least room temperature so that it is safe to put in the fridge. At that point cover with plastic wrap and refrigerate anywhere from 2 hours - Overnight.
Meanwhile in a medium saucepan add the blackberries, water, 5 Tablespoons sugar and lemon juice and cook down for 8-10 minutes until a jam consistency. Pull off heat and allow to cool to room temperature before refrigerating 2hours - overnight.
Freeze the custard in your ice cream maker according to the manufacturer's instructions.
Fold in blackberries after removing from ice cream maker.
Freeze overnight.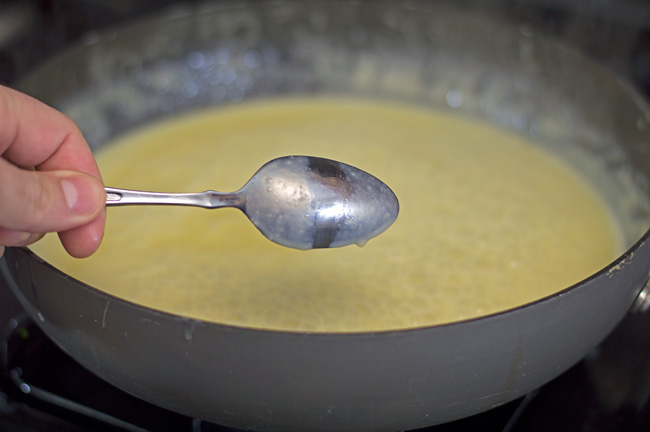 Related