Pumpkin Spice Latte Ice Cream Recipe: This is soon to be your fall favorite ice cream flavor!  Modeled after the extremely popular "Pumpkin Spice Latte" beverage from Starbucks – this ice cream recipe is a perfect balance of pumpkin pie and coffee.  The flavor will have you slipping into a warm pair of UGGS and snapping a multitude of pictures to add a filter to in your Instagram account!
What started out as a simple plan to put together some pumpkin recipes in honor of fall has, I fear now started to turn into an obsession.  But who can blame me right?  Pumpkin, cinnamon and nutmeg are just flavors that I can't help but fall in love with this time of year (pun intended).  Plus, I really like coffee ice cream, so adding an autumn style homemade coffee ice cream to the Cooking Divine repertoire was a bit of a no-brainier.
So here it is, my contribution to the Pumpkin Spice movement.  I hope you enjoy!
Live to Eat… Ice Cream!

Pumpkin Spice Latte Ice Cream
Pumpkin Spice Latte Recipe: Your favorite Starbucks coffee drink is now a frozen ice cream treat!
Ingredients
2 Cups Cream (divided)
1 Cup Whole Milk
1 Cup Pumpkin Puree (unflavored)
1 Teaspoon Cinnamon
1 Cinnamon Stick
½ Teaspoon Fresh Nutmeg
1 Tablespoon Ground Coffee
⅓ Cup Brown Sugar
½ Cup Sugar
6 Egg Yolks
1 Teaspoon Vanilla Extract
Directions
Set aside a metal bowl resting in a bed of ice water with 1 cup of cream in it.
In a large saucepan heat 1 cup heavy cream, the milk, pumpkin puree, cinnamon, cinnamon stick, fresh nutmeg, ground coffee, brown sugar and regular sugar on medium temperature.
Once the ingredients melt together and the liquid just starts to boil, take off the heat and pour through a fine mesh strainer into a bowl.
Put back on heat and bring mixture back til it just starts to boil again.
In a separate bowl, beat the eggs well. Slowly ladle the heated mixture into the eggs while whisking furiously to prevent the cooking of the eggs.
Once half the heated mixture is added to eggs, pour the egg/cream mixture into the large sauce pan and bring heat to medium low.
Cook while slowly stirring mixture until it thickens enough to coat the back of a spoon, this will be your custard base. (SEE IMAGE BELOW).
Once this happens, immediately pour through a fine strainer into the bowl of cream on ice (this will prevent any further cooking of the custard base).
Add the vanilla extract and mix well. Allow to cool to room temperature.
Once at room temperature, cover and put in fridge for 2 hours - overnight.
Remove from fridge and freeze in your ice cream maker according to manufacturers instructions.
Freeze ice cream overnight.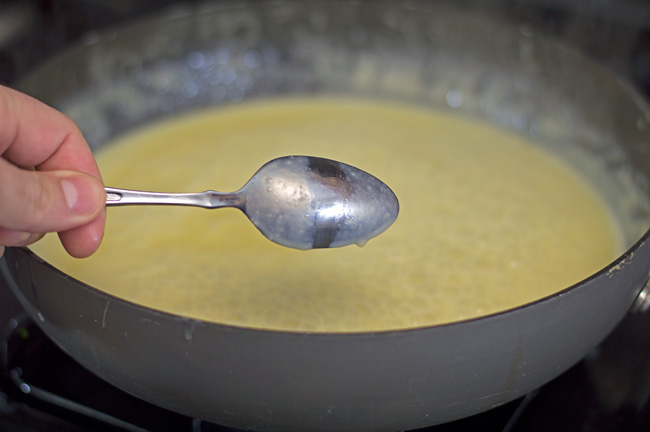 Related