Chocolate Guinness Stout Ice Cream with Honey Roasted Peanuts Recipe:
 My favorite thing to do in the world is make homemade ice cream and perhaps a close second is drinking beer!  Since Guinness is my favorite beer, making this ice cream recipe comes as no surprise to me.  It has actually been swimming around through my head for about 3 years now, why I waited so long to hit the kitchen and make it is beyond me.
The chocolate is a natural flavor in Guinness Stout, so having it in the ice cream recipe is a huge boost to the all ready tasty beverage and helps to draw down the alcohol flavor to a perfect level.  The honey roasted peanuts are the glue that brings everything together.  While chocolate stout ice cream would be great on its own, the peanuts bring it to a whole new level.  The crunchy texture is also a huge bonus.  I love having dueling textures in a lot of the food I make, especially ice cream.
Anyone who follows my recipes will notice that I often make ice cream with alcohol.  Aside from probably being an alcoholic, there is actually a method to this seeming madness.  First off, the flavor is amazing, I find cooking with alcohol to be an extremely effective method if used properly.  Too much alcohol is a sure fire way to ruin a recipe.  Secondly, and even more important, alcohol doesn't freeze and creates an amazingly smooth texture which is very hard to do when cooking ice cream. So next time you are at the pub and ordering a Guinness and munching on the bowl of salted peanuts in front of you, I hope you think of this amazing ice cream recipe! Live to Eat!
Chocolate Guinness Stout Ice Cream with Honey Roasted Peanuts
Chocolate Guinness Stout Ice Cream with Honey Roasted Peanuts Recipe Great wintertime homemade ice cream recipe.
Ingredients
1 Cup Whole Milk
1 Cup Heavy Cream
2 Tablespoons Unsweetened Cocoa Powder
¾ Cup Sugar
Pinch of Salt
4 Egg Yolks
½ Cup Guinness Stout
1 Teaspoon Vanilla Extract
½ Cup Honey Roasted Peanuts
Directions
Set aside ½ cup of Guinness Stout in a metal bowl resting over ice water and place a fine mesh strainer atop the bowl.
Set aside a bowl with 4 egg yolks beaten.
In a medium sauce pan combine the milk, cream, cocoa powder, sugar and salt and heat on medium.
Continue to heat mixture until sugar dissolves and it starts to boil.
Slowly add heated cream base into the beaten egg yolks while whisking fast in order to prevent the eggs from cooking.
Pour the egg/cream mixture back into the sauce pan and heat on medium low until it thickens enough to cover the back of a spoon (SEE IMAGE BELOW).
Pour heated mixture through strainer into the Guinness. Add the vanilla extract and stir.
Allow to cool to room temperature and refrigerate 2 hours - overnight.
Crush peanuts and set aside.
Freeze ice cream according to ice cream maker manufactures instructions.
Add the peanuts right before removing from ice cream maker and fold so that they are evenly distributed.
Freeze ice cream overnight.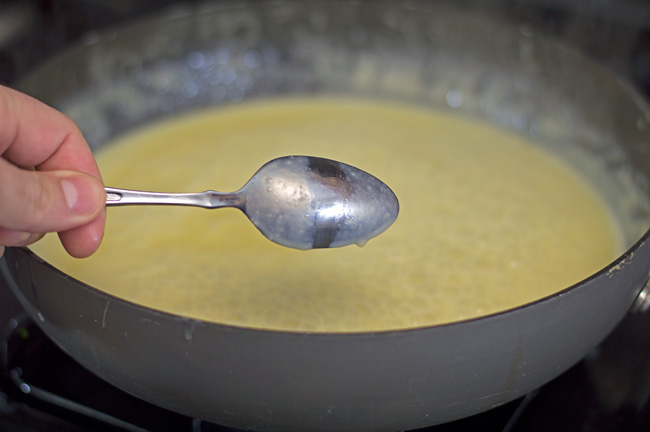 Related