Fresh Buttermilk Strawberry Ice Cream Recipe:  Oh yeah!  Let's milk summer for as long as we can.  For those of you not reading this post in real time, it is early September and while I am extremely excited for fall, part of me wants to hold onto summer just a little while longer.  That is why I am busting out this very summer time ice cream recipe before it is too late!
I love making ice cream with buttermilk, it adds a deeper flavor then just using plain cream.   The problem is that buttermilk, in my humble opinion, doesn't go well with an abundance of flavors.  However, when it comes to strawberry they are two peas in a pod!  The butter milk is a wonderful compliment to the berries.
You will see a lot of people who like to roast the strawberries in the oven.  I have no problem with that but I find that I can control the process better by cooking them over the stove top.
Berries and water based fruit are all very difficult to make ice cream with.  The reason is that the water in the fruit turns your ice cream into a very icy mess.   That is why I like to cook down the fruit with sugar so that it becomes more of a jam.  I also do not add the fruit until just before pulling the ice cream out of the maker or you can even fold it in at the very end before putting the ice cream into the freezer.
Another great way to make fruit ice cream is to add alcohol when cooking down the fruit.  Alcohol doesn't freeze so it will keep the ice cream nice and creamy while adding a new complexity to the flavor.  But obviously you need to choose the booze that best compliments the flavors you are looking to make.
Anyway, have fun with this recipe before it is too late!
Live to Eat!

Fresh Buttermilk Strawberry Ice Cream
Fresh Buttermilk Strawberry Ice Cream Recipe from CookingDivine.com.
Ingredients
2 Cups Fresh Strawberries
½ Cup Sugar
1 Tablespoon Lemon Juice
2 Cups Heavy Cream
1 Cup Buttermilk
½ Cup Corn Syrup
5 Egg Yolks
½ Teaspoon Vanilla Extract
Pinch of Salt
Directions
De-stem and half the strawberries then place in a freezer bag with the lemon juice.
Crush the strawberries by pressing down on the outside of the freezer bag with your hands.
Add the strawberries and sugar into a small sauce pan and cook on medium heat for 5-7 minutes until it cooks down into a jam like consistency.
Place aside to cool to room temperature and then place in refrigerator for 2 hours - overnight.
Place a cup of buttermilk into a metal bowl and place in an ice bath.
In a separate bowl, beat the egg yolks.
In medium saucepan add the cream, corn syrup and pinch of salt and heat until it just starts to boil.
Slowly add the cream mixture to the egg yolks while whisking briskly to prevent the eggs from cooking.
Once half the mixture is combined with the eggs, pour the egg/cream mixture back into the pan and cook until it thickens enough to coat the back of a spoon (see image below).
Strain the cream/egg mixture into the butter milk, add the vanilla extract and stir together. Allow to cool to room temperature and then place in the refrigerator for 2 hours - overnight (this is your custard base).
Once the custard base is cooled, freeze in your ice cream maker per the manufactures instructions.
Add the strawberry jam either 1 minute before removing from the ice cream maker or you can also fold it in at the end before you place it into a container.
Freeze overnight.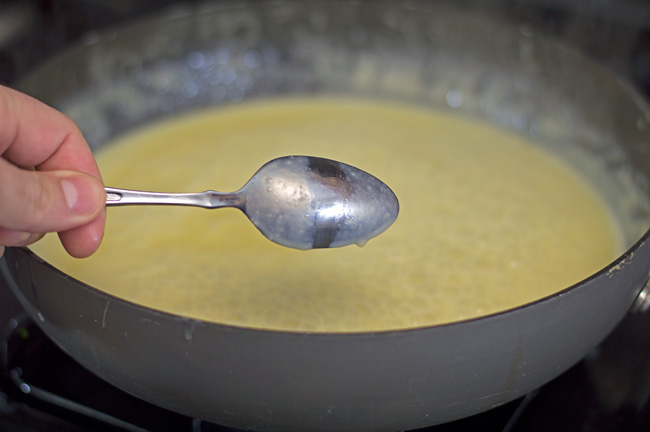 Related