Biscotti Ice Cream Recipe:  What's better than almond Biscotti cookies you ask?  Simple…  almond Biscotti Ice Cream of course!  This is one of my favorite ice cream recipes to make and for very good reason – the taste is simply amazing.  I am going to show you in this post how to make an ice cream that tastes exactly like a Biscotti cookie by using a very funky looking spice called "Star Anise".
Star Anise can be found at your local grocery store quite easily, it is not one of those spices that you need to visit a specialty store for even though it is harvested in Vietnam and China.
The star has a smell similar to black licorice, but when infused with cream and sugar it taste exactly like a Biscotti Cookie.
When I make this ice cream I like to crumble up Biscotti cookies and fold them into the ice cream just before I put it in the freezer.  It adds a tasty crunch that I just love.  You can use a nice store bought Biscotti like I did or you can make your own from scratch.  Pinterest is always a great place to find unique cookie recipes.  Search Pinterest for Almond Biscotti Recipes.
As always, LIVE TO EAT!

Biscotti Ice Cream
Almond Biscotti Ice Cream Recipe - made with love and fresh star anise spices from Cooking Divine... Live to Eat!
Ingredients
8 Star Anise
2 Cups Heavy Cream
1 Cup Whole Milk
¾ Cup Sugar
2 Tablespoons Honey
Pinch Salt
3 Large Egg Yolks
½ Cup Biscotti Cookies (crushed)
Directions
Set aside 1 cup of heavy cream in a metal bowl resting in ice water
Toast the star anise in a large sauce pan for 3 minutes (until fragrant)
Add to the saucepan: 1 cup heavy cream, milk, sugar, honey and salt and continue to heat on medium.
Continue to heat mixture until sugar dissolves and it starts to boil.
Remove from heat, cover and allow to rest for 1 hour.
Return mixture to stove top and reheat on medium low.
In a separate bowl beat the egg yolks. Slowly add the heated mint mixture **IMPORTANT: while you are adding the mixture make sure you are furiously whisking the mixture to prevent the eggs from cooking!
Once half the warmed anise mixture is mixed with the egg yolks, pour the egg yolk mixture into the saucepan and continue to heat on medium low heat.
Continue to heat the mixture until it thickens enough to cover the back of a spoon and leave a tracer of your finger (SEE IMAGE BELOW).
Once you get the proper thickness, strain the mixture again, this time into the cream you have set aside in the ice bath to stop the cooking process. You may see some small curdles of cooked egg, but that is okay as long as you strain the mixture.
Stir the mixture and wait for it to reach at least room temperature so that it is safe to put in the fridge. At that point cover with plastic wrap and refrigerate anywhere from 2 hours - Overnight.
Freeze the custard in your ice cream maker according to the manufacturer's instructions.
Fold in the Biscotti Cookies into the ice cream mixture.
Freeze overnight.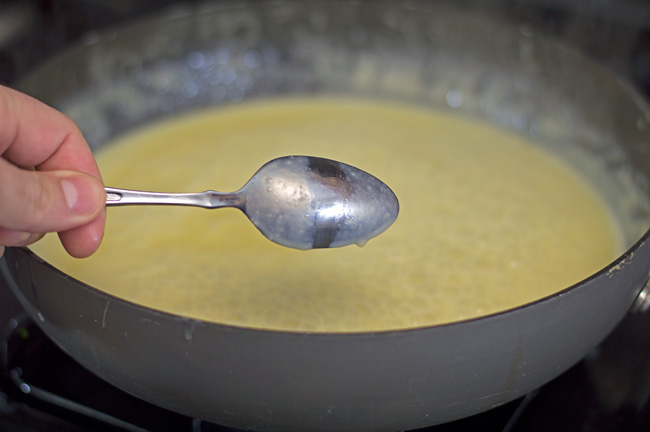 Related